Details

Created: Tuesday, July 13 2021 22:09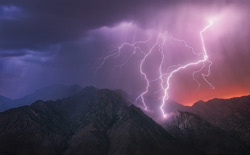 The summer of 2021 is definitely special. After the waves of coronavirus, it is the weather that plays with us. On the side of the Alps, the storms are violent and the rains are raining like lightning. There is quite a lot of flooding, rocks have fallen down the via, landslides, etc.  Ask the tourist office if your via is passable.

Speaking of lightning, be careful when you are on a via ferrata. The cabled lifeline is conductive, sometimes lightning can fall on it. It's not every day, but it would be a pitty if you are the one.