Home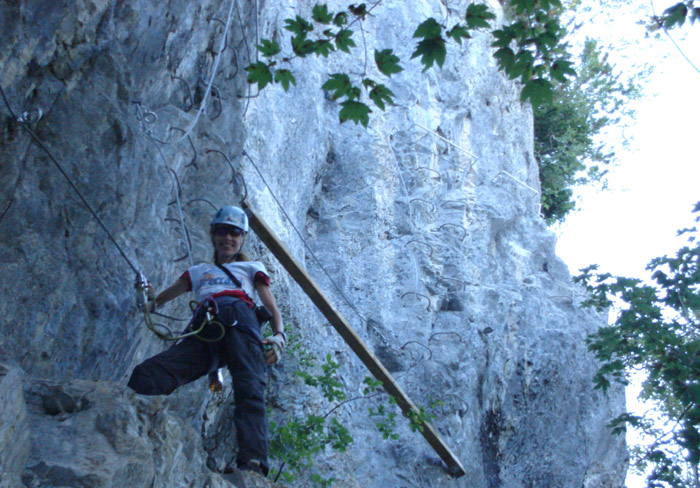 | | | | |
| --- | --- | --- | --- |
| Footbridges | Monkey Bridges | Ladders | Zipline |
| 2 x 5m | 2 | 2 | 1 |
Features
Following the purest tradition of the new and athletic via ferratas: strenuous and fun.
Not for all hands! Reserved for the best.
Not vertiginous, but demanding!
ViaFerrata Tips and Tricks
A bit hard to find.
If it is too hard for you, give up. Go instead to the Tour d'Ai Via Ferrata in Leysin which is a bit easier.
Difficulty: The first challenge is to find a free parking spot. There is one at the ice-skating rink, but it's a three day walk from here.
Grade
| | |
| --- | --- |
| Strength | 4 |
| Dizziness | 1 |
| Type | Mountain: 2 |
| Technics | 2 |
| Evaluation | Extreme |
Information
Leysin Tourism Office : we will put the link up when the parking lot issue for via ferrata-ists is resolved.
Length and Altitude
Length: 320 m.
Altitude gain: 150 m.

Time of Year
April to November (when there isn't any snow)
Timing
Approach from the bottom of the lifts: 25 minutes (if you don't get lost)
Via Ferrata: 1h00 to 1h30
Way back to the parking lot: 35 minutes
By Car
From Geneva, take the highway towards Lausanne and then Sion-Martigny. From Chamonix and Aosta go towards Martigny-Suisse. In Martigny take the highway towards Lausanne-Genève. Exit at Aigle (25km).
Once in Aigle, take the N 11 towards Château d'Oex, les Diablerets, Leysin.
By Train
Take the train to Aigle and then to Leysin.
Contact the SBB for train and bus schedules and fares.
Access
At the bottom of the lifts, follow the road that goes up (the one on the right).
Be careful if you park your car in the street going up, make sure your car is facing downhill as it is a one way street. This way you won't get a parking ticket.
On your right, you pass by a shelter for trash cans that has a REKA sign. Take the little road going up.
You come to a mini parking lot. From here, go left towards a gray house with green shutters which goes by the gentle name of "A Tout Vent" ("By Any Wind").
Near this house, keep going onto an unpaved trail (straight ahead). You will get to a forest and a pleasant trail climbs up on your right. The via ferrata is not much further, Papa Smurf!
Via Ferrata: in 3 parts
Part 1
Well... it all begins with the most rock&roll section! It starts with a tiltled overhang. It's tough on the arms and is not for all hands. On your way you will discover a rope bridge and a beam that is not so easy to get on.
This part is only for the very best, as it is frankly very strenuous.
Part 2
This part is a bit more tranquil, it starts with a grassy and earthen uphill. But since you'll be wearing your sturdy hiking shoes, you won't have any problems.
And bingo, you come across a new overhang that works your arms... It starts to get hard. A nice aerial footbridge in the trees leads you to the last part.
Part 3
With the fatigue you have already accumulated from the first two sections, it gets harder and harder. We'll be brief! Once you see the first ladder, you are there. When you get to the second ladder, your little feet will finally touch the ground. Now you can breathe a sigh of relief!
A guaranteed good time!
Way Back
Like on the way there, but the opposite.
Where to Spend the Night
Camping Semiramis: Tel: +41 24 494 11 48.
Media