Home
Details

Created: Saturday, April 02 2016 15:18
2016: On the Road Again!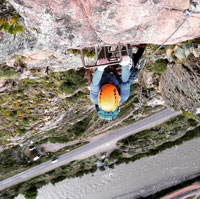 Here we are! The new via ferrata season is back in Europe. Spring is shining and warm temperatures are melting the snow. It is time to clean up your shoes, warm up your sling lines, find your gloves and get ready for fun.
At the moment, most of the via in the Plaine are out of snow. Above 1'200m this is still covered by snow (on the north side). Better to wait as the Tourism Office have to clean up the via.
Two suggestions for this season:
A) don't forget to change your sling lines if they are recalled
B) Make an easy start. Don't hurt yourself, choose an easy one!
On our side, we are translating via into English and we will open new countries. Tough work man!
Have fun