Home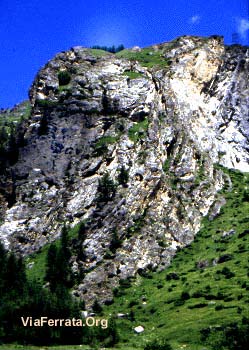 | | | | |
| --- | --- | --- | --- |
| Footbridge | Monkey Bridge | Ladder | Zipline |
| 1 | 1 | 0 | 0 |
Features
Three different levels in three parts with escape routes possible for each of the parts.
For the whole family.
Access to the start of the via ferrata is very short. An impressive hanging bridge, some technical parts that require a lot of arm strength and a lot of courage... to reach the exit that is part of an overhanging section. It is possible to take the escape routes instead. The last part is reserved for experienced via ferrata-ists.

ViaFerrata Tips and Tricks
There is a big crowd during the summer! Go early in the morning!
If you have time do the circuit around Mont Pourri: Mt Pourri, Aiguille du St-Esprit, Dôme de la Sache, Gr 5.
Grade
Strength
L'Eperon des Croës: 1
Le Grand Pillier: 3
Le Sommet : 3
Dizziness
L'Eperon des Croës : 2
Le Grand Pillier : 3
Le Sommet : 3
Type
High Mountain: 2
Technics
L'Eperon des Croës : 1
Le Grand Pillier : 1
Le Sommet : 1
Evaluation
L'Eperon des Croës : Easy - Initiation
Le Grand Pillier : Difficult
Le Sommet : Very Difficult
Information
Peysey-Vallandry Tourism Office
Length & Altitudes
Start of the Via-Ferrata: 1,556 m
End of the Via-Ferrata 1,910 m.
Elevation gain: 354 m
Length: 500 m
GPS Coordinates
Latitude : 45.518932
Longitude : 6.802318
Time of Year
From the 15th of May to the 31st of October
Timing
l'Eperon des Croës
ViaFerrata Access: 15 min
Via ferrata : 30 min
Way back : 20 min
Le Grand Pillier
Via ferrata: 45 minutes
Way back : 30 min
La Sortie
Via ferrata : 20min
Way back : 50 min
By Car
Go to the Tarentaise valley via the Alberville highway, then on to Moûtiers. After Aime, go towards Landry. Go up the switch-backs in the Peisey-Nancroix valley. Park at the end of the valley close to the pond after the hamlet of Lanches.
By Train
Check with the SNCF for buses and trains.
Access
At the beginning of the ferrata an information panel and signs give you directions.
Via Ferrata
1st part : "l'éperon des Croës" is suitable for children (no major difficulties) and there is an escape route at the end of this part. *Approach: 15 min.
2nd part : It starts off with a vertical climb of about 50 meters. Then comes an exposed arrête followed by a second vertical climb and it all ends on a hanging bridge. A second escape route lets you go back down to the valley. *Approach: 0 minutes from the 1st section.

3rd part : A big yellow overhanging slab, it's more strenuous. Go back by way of the plateau to get to the "Les Lanches - Mont Pourri" trail, or by means of a cabled exit to your left that goes directly down to the neighbouring valley and then switchbacks its way down. *Approach: 0 min from the 2nd section.
This last part is very technical and difficult as it has an overhanging section of 15 meters. It's an impressive overhang. If you don't have any strength left, take the escape route. The rest of the route allows you to get to the Lanches - Le Mont Pourri trail.

Way Back
The way back is all beauty. Go left at the top of the via ferrata. Follow the cables and a ladder. A steep trail leads you straight to the parking lot.
Where to Spend the Night
Mont Pourri Refuge: 2,380 m, in the place called "La Savolière". Get there via les Lanches
Media
par viaferrataalpes, Youtube