Home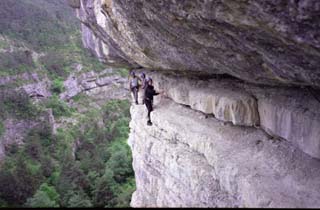 | | | | |
| --- | --- | --- | --- |
| Footbridge | Monkey Bridge | Ladder | Zipline |
| 0 | 0 | 0 | 0 |
Features
2 itineraries : an easy one for beginners; a very athletic one. It's short and a bit vertiginous.
Great for an introduction to via ferrata and for kids despite the void. Small cliff big sensations. It's possible to rappel down, but for this you need to know the concept and the technique and you'll have to bring a minimum 30m rope.
ViaFerrata Tips and Tricks
If the weather is wet, you might get soaked from the runoff. Wear proper shoes (Vibram) and most important of all, but of course this applies to all via ferratas, your helmet should be glued to your head. The rocks here fall like leaves from autumn trees!
Grade
Strength
Part 2: 3
Dizziness
Part 2: 2
Type
Plaine: 1
Technique
1
Evaluation
Part 1: Initiation
Part 2: Very Difficult
Information
Length and Altitude
Beginner's itinerary:
Exposure : East facing - Length: 500m
Athletic itinerary:
Exposure : East facing - Length: 350m
Start: 850 m.
End : 950 m
Elevation gain : 100 m
Time of Year
All year
Timing
Access: 10 minutes
Viaferrata : 1 hour.
Way back : 30 minutes

By Car
On the RD 1075 Grenoble/Sisteron, between la Faurie and Aspres sur Buëch
1km after Aspres-Sur-Buëch, abandon the Veynes/Gap junction and keep going for 500m, go right on the forest track of Gorges d'Agnielles for 1km, until you reach the parking lot. Here you can drop off your wheels.
By Train or Bus
To the Lignerolles train station. Check with the SNCF: schedules and fares.
Access
Keep going on foot for 300m to the climbing school. Here you'll see a Via Ferrata sign.
Take the trail on the left that switchbacks up to the start.

Via Ferrata
Part 1: Initiation
It starts off with a small wall and then a big vertiginous ledge. After 2 caves you get to the vire des "hirondelles" (swallows, but they're not here in the spring). You go up a new vertical wall, and then another vertiginous traverse lets you leave the itinerary or rappel down 30m (if you have a rope).
Part 2: Athletic
The first section is athletic. The second section is very athletic as it has two very vertiginous ledges. One of these leads to a small cave which in turn leads to an unequipped path. Don't climb up, but go down a couple meters to go through another cave on the left.
The trail goes back up a little and it is equipped. Then you go to a another very vertiginous ledge.
Way Back
From the first part: 20 minutes

From the second part 2: you have two choices: go back to the parking lot (5 min) or add to the experience by doing the easy section.
Where to Spend the Night
Gîte d'étape La Chapelle, 15 beds in Aspres-sur-Buëch
Media
vidéo par Viaferrataalpes, Youtube