Home
Details

Created: Wednesday, July 13 2022 22:09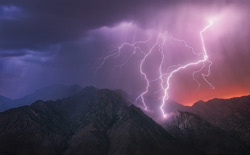 You certainly have noticed that the summer heat is very complicated to manage. Between the heat waves and monstrous thunderstorms with torrential rains. Be careful when you climb a via ferrata and check the weather forecast.

Take enough water, especially if the via is exposed to the sun and take clothes for storms. Sneakers are not the right footwear for via ferrata, especially if the approach terrain is dry or wet.

Speaking of lightning, be careful when you're on a via ferrata. The cabled lifeline is conductive, sometimes lightning falls on it. It's not every day, but it would be a shame to get caught in one.