Details

Created: Sunday, August 26 2018 16:13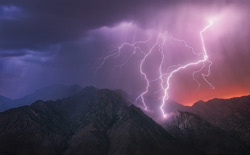 With the global warming, you have certainly noticed the storms are becoming more and more violent. In the mountain, this is more and more epic.
When you climb a via ferrata and a storm is coming, well.. this is not fun especially if lightnings pop up all over the place. There is a small chance that the lightning touches the cable, but it is still possible.
To avoid it, check the weather forecast. When you climb a via, the goals are to have fun and to come back!