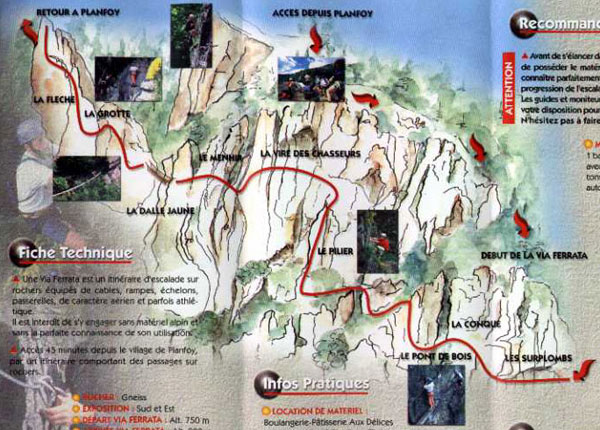 | | | | |
| --- | --- | --- | --- |
| Footbridge | Monkey Bridge | Ladder | Zipline |
| 2 | 1 | 0 | 1 |
Features
2 via ferratas: The Adult's Via Ferrata and the Children's Via Ferrata, "Les Pillots", which is intended for children 6-12 years old and at least 1m10 tall.
The commune has made this are a "center of vertical activities."
It's free so you can try the whole package of vertical outdoor activities: Adult's and Children's Via Ferrata, Zipline, Adult Mountain Route.
ViaFerrata Tips and Tricks
Bring your MTB and also go visit the Pilat regional park.
This via ferrata is free. If you need a guide, plenty are available, and if you need equipment you can rent it.
Adult's Via Ferrata Grade
| | |
| --- | --- |
| Strength | 1 |
| Dizziness | 2 |
| Type | Plaine: 1 |
| Technics | 3 |
| Evaluation | Mid-difficult |
Information
Length and Altitude
Via Ferrata Start: 660 m
Elevation gain: 235 m.
Cable length: 600 m.
Exposure: Southeast on gneiss rocks.
Time of Year
Open all year. You can't go on it at night when the route is icy or snowed over.
Timing
Elevation gain: 100 m.
Length: 600 m.
Start: 800 meters
End: 900 meters
The adult's via ferrata (600 m long) takes 3-4 hours round trip and the Children's Via Ferrata (250m long) takes 2 hours.
By Car
RN 82 from St-Etienne towards the République Pass and Annonay. 8km from St-Etienne.
By Train or Bus
Take the TGV to St-Etienne if they're not on strike. Check with the SNCF: schedules and fares.
Access
A 45 minutes approach from the village of Planfoy.
Drop your car off gently in the parking lot near the cemetery!
From Planfoy a "yellow and white" marked trail leads you to the via ferrata after 30 to 45 minutes of walking. Onwards to the "center of vertical activities."
Via Ferrata
The platform at the start of the Adult's via ferrata is the easiest way to get on, but for those who are "in a rush" there is an intermediary access point.
The beginning is in the forest, easy. Then a section that is a bit more technical and leads to a big, but easy climb, a little footbridge, and then it's down to the big 17m footbridge. Once you are on the other side there is a big, but nice climb all the way to the top of the via ferrata.
The Gouffre D'Enfer Valley (Hell's Abyss Valley) with its two stone dams and Roch Corbière climbing site is a superb setting.
On the Children's Via Ferrata: a 30m combination of gymnastic's apparatus, including a suspended net, small hops, a platform where you can rest, and swings. These have replaced the forest route which was originally installed in 2006. For children the via ferrata ends by going from tree to tree on footbridges.
Way Back
It's pretty easy to find your way.

Where to Spend the Night
Camping, lodge in St Genest Malifaux (4 km), and plenty of other options on site
Media
vidéo par alain c, Youtube